Dossier - Convocatoria
Letras fieras: José Martí a debate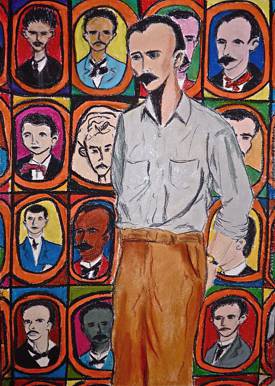 Pocas figuras en la historia de Cuba e Hispanoamérica han despertado tantas pasiones como José Martí. Poeta, cronista y político cubano, a Martí le tocó vivir una época compleja y turbulenta, tanto desde el punto de vista social como político. Su escritura, como sabemos, se hizo eco de y abordó los problemas de su tiempo, particularmente en sus famosas escenas norteamericanas que publicó en muchos de los más importantes periódicos de América Latina, como La Nación de Buenos Aires. Desde, por supuesto, el problema de la independencia de Cuba, pasando por los problemas sociales y políticos de Nuestra América, y las elecciones políticas, la inmigración, las exposiciones de arte, las huelgas obreras y la cuestión indígena en los Estados Unidos, así como los debates científicos y económicos en conexión con el positivismo y el liberalismo, prácticamente nada escapó a su atención. En este dossier nos proponemos contribuir a la indagación de su obra, de relevancia tanto para Cuba, como para América Latina, y aun para los Estados Unidos. Con ese fin solicitamos artículos, reseñas, y notas que ayuden iluminar la forma en que sus escritos han sido leídos y los debates políticos, teóricos y literarios que ha motivado. Queremos contribuciones originales, que se salgan de los caminos trillados, que iluminen nuevos ángulos y posibles rutas de lectura. En otras palabras; se trata de compilar un dossier que no sólo debata los textos de Martí y/o los acercamientos de otros críticos a esos textos, sino también que el dossier mismo incite al debate, e idealmente abra nuevas discusiones en torno a la obra martiana. Por supuesto, además de por su originalidad, las propuestas para el dossier serán evaluadas en atención a su rigor académico. El plazo para el envío de las propuestas es el 31 de agosto de 2014. Se aceptarán propuestas en español e inglés, las cuales deben ser enviadas a:
Jorge Camacho
Dossier - Call for Papers
Fierce Letters: Debating José Martí
Few figures in the history of Cuba and Latin America have attracted so many passions as José Martí. Poet, chronicler and Cuban politician, it was Marti's fate to live in complex and turbulent times, both from a social and political point of view. His writing, as we know, echoed and wrestled with the problems of his time, particularly in his famous American scenes that he published in many of the most important newspapers of Latin America, such as La Nación of Buenos Aires. Beginning with, of course, the issue of Cuban independence, continuing on to the political and social problems in Nuestra America, and political elections, immigration, art exhibitions, worker strikes and the native American issue in the United States as well as scientific and economic debates in connection with positivism and liberalism, virtually nothing escaped his attention. In this dossier we intend to contribute to the investigation of his work, as relevant for Cuba, as for Latin America, and even for the United States. To that end we are requesting articles, reviews, and notes that will help illuminate the way in which his writings have been read and the literary, theoretical and political debates that they have motivated. We want original contributions, which should depart from the beaten path, which illuminate new angles and possible new routes of reading. In other words; we propose the compiling of  a dossier that not only discusses Martí's texts and/or other critical approaches to those texts, but also that the dossier itself should incite debate, and ideally open new discussions on Marti's work. Of course, in addition to their originality, proposals for the dossier will be evaluated based on their academic rigor. The deadline for submission of proposals is August 31, 2014. We accept proposals in Spanish and English, which should be sent to:
Jorge Camacho
Convocatoria de artículos
Artículos, notas, reseñas de libros y entrevistas
     Todas las propuestas de artículos, notas, entrevistas y reseñas que se envíen a nuestra revista deben ser absolutamente inéditas, y deben ser de la mayor calidad académica y/o literaria. Estamos particularmente interesados en publicar artículos que, por su originalidad y creatividad, contribuirán significativamente al desarrollo y debate de ideas en sus campos respectivos. Los artículos serán evaluados por un mínimo de dos de nuestros miembros del Consejo Editorial, o dos lectores externos de probada competencia en el campo de que se trate. Aunque publicamos artículos académicos en el sentido estricto del término, estamos muy interesados también en aquellos que, al mismo tiempo que exhiben rigor académico, colindan con el ensayo literario sin caer por ello en una escritura impresionista. Para nuestra próxima edición consideraremos cualquier artículo que esté dentro del perfil de nuestra revista:
Cualquier autor o asunto de cualquier período literario y cultural de Cuba, el Caribe y América Latina,
El modernismo hispanoamericano,
Estética (incluso si el artículo no cayera específicamente en el campo de los estudios latinoamericanos)
La Guía para la propuesta de artículos y dossiers los autores encontrarán toda la información necesaria referida a estilo, extensión, etc.

Los autores y editoriales que quieran que sus libros sean reseñados en nuestra revista deben enviarlos a:
Francisco Morán
Department of World Languages and Literatures
Southern Methodist University
3200 Dyer Street
309 Clements Hall
Dallas, TX 75205
     El plazo para el envío de artículos a ser evaluados para publicación cierra el 1 de agosto de 2014.
     Los artículos deben enviarse, en un attachment, a:
Francisco Moran      


fmoran@smu.edu
Call for Papers
Articles, notes, reviews and interviews
     All articles, notes, interviews and book reviews to be considered for publication in La Habana Elegante must be absolutely unpublished, and must meet the highest academic and/or literary standards. We are particularly interested in articles that, because of their originality and creativity, will significantly contribute to their respective fields. Although we publish academic articles in the strict sense of the term, we are eager to evaluate literary essays based on rigorous academic research which avoid the traps of impressionist writing. Articles will be submitted for evaluation to at least two of our editors and/or other external readers.
     We will consider for publication articles on:
Any author or topic from any literary and cultural period of Cuba, the Caribbean and Latin America,
Spanish American modernismo,
Aesthetics (even if they do not fall within the field of Latin American studies)
In Guidelines for Submission of Articles and Dossiers you will find the necessary information about style requirements, length, etc.

We accept books for review in our journal. Authors and publishing houses as well are invited to submit their works. Books to be reviewed in LHE must be sent to:
Francisco Morán
Department of World Languages and Literatures
Southern Methodist University
3200 Dyer Street
309 Clements Hall
Dallas, TX 75205
     The deadline for proposals of articles, reviews and interviews is August 1, 2014.
Send your articles, interviews and reviews in attachment to:
Francisco Moran      

fmoran@smu.edu